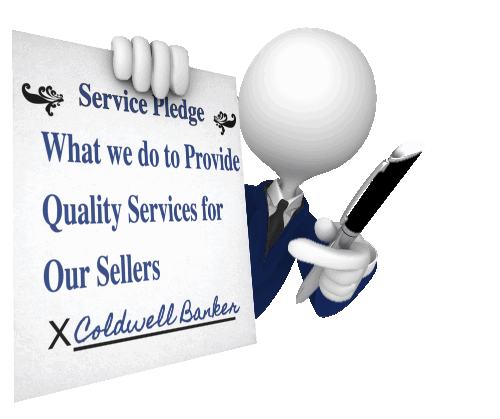 WHAT OUR SELLERS WANT:
To sell their home for the highest net proceeds.
To sell their home in the shortest possible time.
To eliminate any unpleasant surprises or problems.
WHAT WE DO TO PROVIDE QUALITY SERVICES FOR OUR SELLERS:
Explain the entire selling process.
Use multiple listings and other sources to show how much buyers are paying for a home like yours.
Show you how to improve the marketability of your home.
Show your home: Proven tips and techniques that tell how to make your home more appealing.
Explain how our marketing plan is designed to keep you informed of all activities to sell your home.
Place our "For Sale" signs on your property to attract potential buyers.
Place information about your home through our multiple listing service.
Arrange for a tour of your home by our associates so they can also see its features and benefits.
Quality buyers before showing them your home.
Promptly present and advise you on all offers.
Explain the closing process in detail so you have a good idea of your estimated net proceeds.
Keep you informed from contract ratification to closing.
Help obtain an advance equity loan if this option becomes desirable for you.
Moving out of state? Our free relocation service can help you find a new home anywhere in the country.
We'll work to ratify a mutually acceptable, completed offer-to-purchase and give you a signed copy.
We'll attend the closing to help explain all details.
Above all, we'll work for you by marketing your home to obtain the best net proceeds, in the shortest possible time, without any problems.